Qatar Airways is planning to boost its network again, adding Sofia and Bucharest back to the network, as well as increasing frequencies on parts of the network.
---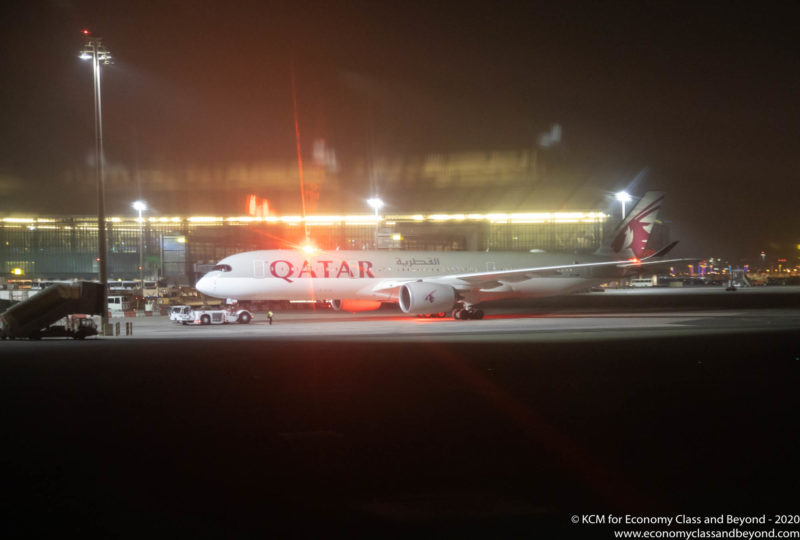 Qatar Airways Airbus A350-900 at Hamad International Airport, Doha – Image, Economy Class and Beyond. 
Sofia (Bulgaria) and Bucharest (Romania) will rejoin the network, with a 3 times a week service, marking it the 100th destination to rejoin the network on the 16th October.
The addition of these two destinations will expand Qatar Airways operations to over 700 flights a week.
But that is not all. The airline is planning to add frequencies across its network. They include:
Copenhagen – Increasing to 10 weekly flights from 12th October
Madrid –  Increasing to 10 weekly flights from 12th October
Manchester -Increasing to 17 weekly flights from 12th October
Singapore – Increasing to double daily flights (14 flights a week) from 25th October
Stockholm -Increasing  to 10 weekly flights from 12th October
In Quotes
Qatar Airways Group Chief Executive Mr Akbar Al Baker, said:
"As one of the few airlines to have continuously flown throughout the pandemic to take passengers home safely and reliably, we are proud reach this significant milestone in the rebuild of our network. Our focus is not only on restarting destinations but also operating as many frequencies as possible to provide our passengers the flexibility to travel when they want. With more than 700 weekly frequencies currently, and plans to increase our network to more than 125 destinations by the end of 2020, our passengers will enjoy more options to travel when they want across the globe, safely and reliably."
Airline networks aren't just the number of destinations – frequencies matter too 
Whilst the addition of two new destinations are of mild interest – the really interesting part is where Qatar Airways is increasing its network to serve more European, Scandinavia and Asian destinations.
An uptick in frequency could indicate people are more willing to travel – or the airline is providing more space on board.
Either way, more options are coming on the way for those who are choosing to fly via Doha.
Whilst the situation in Europe may be changing quickly. it will give a chance for those who need to depart the area or return to it as needed.
And in these times, a frequency boost could be a glimmer of hope in this upcoming winter.
---
---
---
---
Related Articles
The editorial staff of
Qatar Today
would like to give all of its readers from Gulf and Qatar and the whole world the opportunity to participate actively in the development of the website! If you have something interesting, fun, scandalous - just something worth to be seen from more people. Capture it and
share it in the Qatar Today
with a short text.
---
Do you have information you want to reach our readers?
---
You can subscribe to our Facebook, Twitter and Google pages or use our RSS feed channel to always read the most important news about Qatar, the Gulf and the world.